Podcast: Play in new window | Download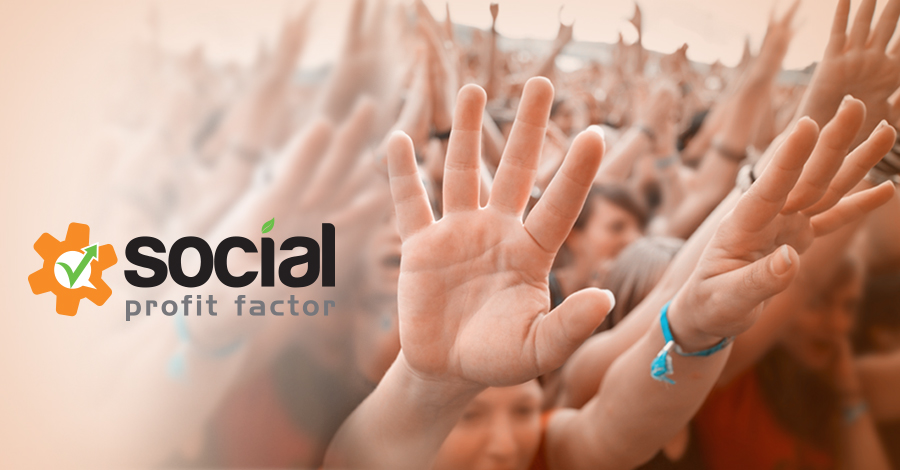 Do you have social media, digital marketing and branding problems? Good news is we have real answers!
We have been working the past year on a game changing online social media training academy and member community to help solve your biggest problems and challenges related to social media marketing, digital marketing, and branding.
I am excited to announce that TODAY we officially open the public doors to our brand new Social Profit Factor training academy and member community! Yes, we have removed the opt-in wall and you can enroll in Social Profit Factor right now!
We have developed your fast track to social media business success!
Tired of no ROI and wasted time and money… look no further than Social Profit Factor! From strategy, goal setting, conversion optimization, community building, business and personal branding, content marketing, social advertising to live video we have you covered. Of course we also help you master every top social network such as Facebook, LinkedIn, Twitter, Instagram and more!
Step 2: Enroll / buy your virtual seat and you will be inside the academy and community within minutes!
Still need more information?  Listen to the audio podcast here->  Big Announcement Social Media Training Academy and Member Community
Note: If you listen to the podcast you will be provided a coupon code with extra special savings + free 30 minute consultation ($250 value!)
Social Profit Factor is THE social media training academy and community for small business owners, entrepreneurs, marketers, CMOs, CEOs, directors, recruiters, sales professionals, real estate agents, speakers, authors, network marketers, artists, franchisees, franchisors and YOU!
The first version of this academy was recently launched with our client and partner, Loreal / Redken and is available in a private learning system for 150,000+ Redken Salons and Stylists!
There is nothing like it on the market today! We have worked on Social Profit Factor for more than a year to solve for an underserved need in the world of online marketing today!
Below is a snapshot of what Social Profit is and how it can help your business. Check out the details and INCREDIBLE deals including bonuses for early bird buyers!
 

Do you have social media problems? 
Overwhelmed with constantly changing social networks and technology?
Unclear what social networks to focus on?
Not sure how to set goals or measure success?
Not clear on audience and customer priorities?
Unsure how to develop content to attract your ideal customer?
Difficulty obtaining funding, budget or stakeholder buy-in?
Can't find the training and information needed to learn?
More questions than answers?
Tired of wasting money on social media training only to find 50 random videos thrown at you that make no sense?
We have THE answer – Social Profit Factor Training and Member Community!  
Proven SYSTEM with step-by-step blueprint for social media for business success!
Private Member Support Community for questions, support & networking!
Quickly master top social networks & strategies to grow your business
Develop an executable plan + metrics for success within 30-60 days!
Learn from experts who walk the walk + proven track record with clients big & small
Set goals and prioritize what matters most.
Learn tools and strategies to conduct audience research even on a tight budget
Leverage data to refine your audience, market, content, and social network priorities
Build a plan that wins budget & support of investors, stakeholders, partners.
You will learn from people who walk the walk, not just talk the talk. 
Your instructor and partner on the path to success – Pam Moore!
International keynote speaker, trainer and consultant to Fortune 10 brands, small and medium business
Forbes Top 5 social media power influencer (3 years running); 2017 digital marketers to watch – Forbes and numerous other accolades
20+ years experience in B2B and B2c in varied industries across enterprise technology (hardware, software and services), beauty, education, risk management, real estate, manufacturing, ecommerce, franchising, hospitality and loads more.
1+ million connections across social, we walk the walk!
Social Zoom Factor podcast has 230+ episodes downloaded 100k times per month- more than 1.5 million downloads to date.
Spent 15+ years in corporate America at startups to Fortune 50 brands including GE, Hitachi, IBM, Sun Microsystems, StorageTek, Bisk Education.
Pam Moore and Marketing Nutz lead industry by 18+ months for 7+ years.
The most successful brands in the world have relied on Pam to understand the social ecosystem including IBM, Lowes Home Improvement, Chick-Fil-A, British Council, Laser Spine Institute, Digikey, Loreal, Redken, Pinot's Palette, Golfweek, Re/Max, Service Master, Holiday Inn, Score Mentors and more.
How will it benefit business and marketing leaders?
Generate leads and increase sales!
Increase brand awareness for your business
Make data driven decisions with confidence & clarity
Gain competitive edge – know how you stack up to competition
Increase ROI across all facets of marketing investment
Establish thought leadership and trust
Build community to create a movement
Ignite evangelists to help amplify your story and brand
Feel confident in how you present yourself and your brand online
Better connect with your audience in a human, authentic way
Improve customer satisfaction by servicing customers where they are
Get stakeholders and partners on board with your plan
Save time and money by shortening timeframe to learn and profit from social media!
Comprehensive training for the beginner to advanced social marketer! Courses with engaging and detailed video, video tutorials, worksheets, cheatsheets and more cover everything from social media strategy, audience marketing, personal branding, business branding, content marketing to Facebook, Twitter and Instagram, plus LOADS more. Learn more details here->> Get Social Profit Factor!
There is no other system like it on the market that provides the structured roadmap for success, backed by the experience and proven strategies and tactics for success.
Sign up today and get into this amazing academy for a lower cost than you will EVER be able to get in!
I sure hope to see you on the other side and help you truly rock your business and life in 2017!
Sign up now for incredible early bird founders deals and bonuses —http://www.socialprofitfactor.com Limited time offer, so don't delay! 
Let's DO this!
Need more information before you decide? No worries. Watch this short informational video, loads of testimonials and details of the program!