How is your content marketing plan and strategy coming along for 2016? Are you ready to create and deliver valuable content  that will inspire, connect and organically attract your ideal customer, audience, investors, stakeholders, and partners?
Do you know what content you will be delivering on what month, week and day to inspire, empower, engage and activate the members of your online social communities? Are you ready to leverage content marketing to achieve your business and marketing goals and objectives?
Are you ready to tap into the power of content marketing to generate more leads, earn trust with your ideal customer audience, establish thought leadership, connect with and foster relationships with influencers in your industry, and grow your business?
Did you know:
Only 30% of B2B marketers say their organizations are effective at content marketing. This is down from 38% last year. (Content Marketing Institute)
67% of B2B buyers rely more on content to research and make B2B purchasing decisions than they did a year ago. (DemandGen Report)
70% of marketers lack a consistent or integrated strategy. (Altimeter)
51% of B2B marketers indicate they will increase their content marketing spending in the next 12 months (Content Marketing Institute)
If you want to get a grip on your content marketing starting today, then you have come to the right place.
We are thrilled to announce the availability of our 2016 content marketing editorial calendar template.
The 189th episode of the Social Zoom Factor podcast provides a detailed tutorial to help you create your own content marketing editorial calendar for 2016.
How to get a grip on your content for 2016: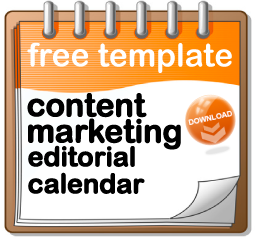 Step 1: Download our calendar here-> Content Editorial Calendar.
Step 2: Listen to the 189th episode for step by step directions for how to use our content calendar template.
Step 3: Subscribe to the entire series, "Get Fit Social and Digital Business" on iTunes, Stitcher or SoundCloud!
Benefits of using a content editorial calendar:
Helps you focus on the needs of your audience and ideal customer
Helps you inspire, connect, empower and activate your audience
Force you out of your box and to think further than today or tomorrow
Increase value of your content to your audience
Better integrate and leverage different communication mediums and platforms to keep things fresh
Create content once, use many = increased return on investment
Streamline all investment and resources for content creation and marketing related activities
Encourage teamwork internally and with external partners and stakeholders
Fuel innovation and idea generation, avoid getting stuck in a rut
Better set expectations with your audience and fans
Helps you create loyal brand evangelists
Editorial Calendar Highlights
Prioritization of audience via our audience analysis worksheet
Monthly conversation theme
Weekly conversation theme
Blog post title
Target audiences (primary, secondary and tertiary)
Author
Editor
Purchase cycle (awareness, consideration, preference, purchase, loyalty)
Draft due date
Primary keywords
Blog Categories
Supporting images
Other supporting media (image, video, podcast)
Embed in other resource kits or publications
Syndication
Possibly white paper (y/n)
Client testimonial / graphics
Call to action (link and description)
In this 20 minute podcast you will learn: 
Supporting Resources:
Free webinars: We are also launching a series of webinars and training opportunities to dig even deeper. Sign up here-> You are the Media – Building Your Media Foundation
How to Subscribe to Social Zoom Factor Podcast